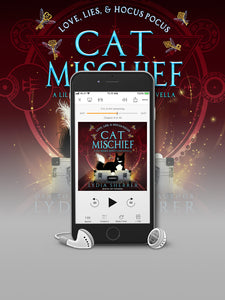 This is an electronic audiobook. To listen, you must download the Bookfunnel app or listen to it in your browser.  You will not have access to the MP3 files individually.

To listen to your audiobook, you will need to install the BookFunnel app on your iOS, Android, or Amazon Fire device, or listen via your BookFunnel library in your browser (my.bookfunnel.com). You can add the book to your app using a BookFunnel code or by logging into the app using the email address you provided when you ordered your copy of the audiobook.
Runtime: 3.5 hours
Narrator: Amy McFadden
HAVE A COUPON CODE? APPLY YOUR CREDIT AT CHECKOUT!
If you did not want mayhem, you should not have hired a talking cat.

Blessed (or cursed, depending on who you ask) with human intelligence, Sir Edgar Allan Kipling, magical talking cat extraordinaire, spends most of his time keeping his human wizard out of trouble—whether she wants him to or not. If she knew what he usually got up to, she would protest most vociferously. But sometimes a cat's gotta do what a cat's gotta do, and one can watch only so many soap operas before an offer of mischief and adventure is too good to turn down.
Now with an artifact to steal, and saddled with allies far too eager to yank his tail, Sir Kipling will have to bring every bit of his snark and wiles to bear if he wants to succeed. Failure could mean much worse than danger to his human: he might miss his nap.
If you are a cat person, you will adore this book. If you are a dog person, you will also adore this book, and upon completion will be inexplicably compelled to go out and adopt a cat. You have been warned.

With over 2,000 five star ratings and half a million copies downloaded, this urban fantasy series full of adventure and snarky humor is guaranteed to cause loud snorts of laughter, tea cravings, and sleep loss. Don't start it at night or you'll never go to bed! Great for fans of urban fantasy from Harry Potter to Harry Dresden, and fans of beloved cat characters like Cheshire Cat, Crookshanks, Salem, and Mogget. Grab Cat Magic now and laugh your head off (best enjoyed with a cat in your lap).
"Magic, snark, wit and cats: what more can you ask for in a book?" - Kaitlyn, Amazon Customer
"I'm a fan for life! As long as the author keeps writing, I'll keep buying!" - Stephen, paperback reader
"Ms. Sherrer must speak cat because she knows just what a cat thinks. This is so cute and fun to read. It brought a smile to my face and I could not stop laughing." - Crystal, Amazon Customer
"Read this series! It's one everyone should have in their library!" - Kindle Customer

"The author has clearly lived with many a cat in her lifetime…I laughed (fairly loudly) so many times I lost count." - Kern, Amazon Customer

"Lots of adventure, danger and hilarity. I am hooked and can't wait for the next book." - Brittany, Kindle Customer

"This book was so good that I almost missed a meeting because I was enthralled with the story." - Kristi, paperback reader

"I loved this book. I couldn't put it down I read it in one sitting. Kudos to the author. I can't wait to read the rest of the series." - Tonya, Amazon Customer