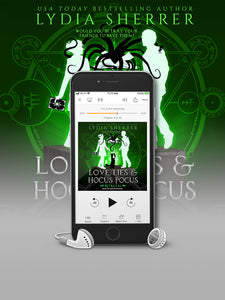 This is an electronic audiobook. To listen, you must download the Bookfunnel app. You will not have access to the MP3 files individually, and can't listen to the book outside of the BookFunnel app.

To listen to your audiobook, you will need to install the BookFunnel app on your iOS, Android, or Amazon Fire device. You can add the book to your app using a BookFunnel code or by logging into the app using the email address you provided when you ordered your copy of the audiobook.
Runtime: 9.5 hours
Narrator: Amy McFadden
HAVE A COUPON CODE? APPLY YOUR CREDIT AT CHECKOUT!

Would you betray your friends to save them?

It has been months since Lily Singer's harrowing adventure in England, yet there has still been no word of her father or Morgan le Fay. Far from being able to relax, Lily has been kept busy doing the last thing in the world she ever imagined: dating Sebastian Blackwell.

Insanity must run in her family.

Things start to get interesting--that is, bothersome and entirely inconvenient--when former beau and FBI agent, Richard Grant, asks for help investigating a series of occult-related murders. Lily would rather decontaminate Sebastian's mold-ridden car than open that can of worms, yet she might not have a choice. For a whisper has spread throughout the magical underworld--a rumor of creatures that will pit friend against friend and resurrect shadows from the past.

With over 1,000 five star ratings and over 100,000 copies downloaded, this urban fantasy series full of adventure and snarky humor is guaranteed to cause loud snorts of laughter, tea cravings, and sleep loss. Don't start it at night or you'll never go to bed! Great for fans of urban fantasy from Harry Potter to Harry Dresden. Grab Book 5 and hope you can find a way to save your friends without destroying them.
"Magic, snark, wit and cats: what more can you ask for in a book?" - Kaitlyn, Amazon Customer
"I'm a fan for life! As long as the author keeps writing, I'll keep buying!" - Stephen, paperback reader
"Ms. Sherrer must speak cat because she knows just what a cat thinks. This is so cute and fun to read. It brought a smile to my face and I could not stop laughing." - Crystal, Amazon Customer
"Read this series! It's one everyone should have in their library!" - Kindle Customer

"The author has clearly lived with many a cat in her lifetime…I laughed (fairly loudly) so many times I lost count." - Kern, Amazon Customer

"Lots of adventure, danger and hilarity. I am hooked and can't wait for the next book." - Brittany, Kindle Customer

"This book was so good that I almost missed a meeting because I was enthralled with the story." - Kristi, paperback reader

"I loved this book. I couldn't put it down I read it in one sitting. Kudos to the author. I can't wait to read the rest of the series." - Tonya, Amazon Customer