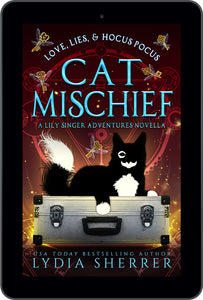 Grab the EBOOK of Sir Kipling's latest solo adventure in Lydia Sherrer's bestselling urban fantasy series!
Book Description:
If you did not want mayhem, you should not have hired a talking cat.

Blessed (or cursed, depending on who you ask) with human intelligence, Sir Edgar Allan Kipling, magical talking cat extraordinaire, spends most of his time keeping his human wizard out of trouble—whether she wants him to or not. If she knew what he usually got up to, she would protest most vociferously. But sometimes a cat's gotta do what a cat's gotta do, and one can watch only so many soap operas before an offer of mischief and adventure is too good to turn down.

Now with an artifact to steal, and saddled with allies far too eager to yank his tail, Sir Kipling will have to bring every bit of his snark and wiles to bear if he wants to succeed. Failure could mean much worse than danger to his human: he might miss his nap.

If you are a cat person, you will adore this book. If you are a dog person, you will also adore this book, and upon completion will be inexplicably compelled to go out and adopt a cat. You have been warned.

A new novella in a beloved series that already has over 2000+ five star ratings on Amazon and Goodreads and over a quarter million copies sold. Chock full of snarky cat humor and magical adventure, you won't be able to put it down. Great for fans of urban fantasy from Harry Potter to Harry Dresden, and fans of beloved cat characters like Cheshire Cat, Crookshanks, Salem, and Mogget.

--

Love, Lies, and Hocus Pocus Universe Books:

LILY SINGER ADVENTURE SERIES
Beginnings (#1)
Revelations (#2)
A Study In Mischief (#2.5) - FREE novella, can be read as a standalone
Allies (#3)
Legends (#4)
Cat Magic (#4.5) - novella, can be read as a standalone
Betrayal (#5)
Identity (#6)
Cat Mischief (#6.5) - novella, can be read as a standalone
Kindred (#7)
more coming!

DARK ROADS TRILOGY
Accidental Witch (#1)
Accidental Vigilante (#2) Coming in 2023!
What are readers saying about these books?
"I LOVE this writer's style! Very fun, upbeat stories that draw you in and make you want to keep reading until 2 AM." Jim D.
"I don't often give 5 star ratings in a review, but this...series so far is of such quality that I can't find a single thing wrong with it! The world-building, character development, plot and, of course, the snark all mesh together faultlessly. Love, love, LOVE it!" - Nintoni (Amazon customer)
"I just started reading this series and I am in total love with it." - Barbara H.
"Lydia Sherrer's series is addictive; it's Harry Potter for grownups." - Cara J.
"Definitely a 'can't put it down' series, lost far too much sleep while reading them!!" - Beryl H.

"This series is SO good! I can't wait for the next book!! Keep it up Mrs. Sherrer!" - Kat S.
"My cat made me order this, and he made me move it to the top of my reading list!" - Shar B.
"I am anxiously awaiting another in this series. When I'm reading these I get 'looks' from my family because I am constantly laughing." - Missie B.
"I've been an avid reader for over 45 years and 'ongoing douchebaggery' is one of my all time favorite phrases, lol! I can't wait for your next book." Dawn T.
"Started reading this series - after just a few pages, I'm addicted :)" - Liz B.
"I am SO loving this series! Great characters and plot lines. I am a new big fan of Lydia Sherrer's writing style." - Moira F.
"Very good books, well written, memorable, captivating. I've long since finished...and still the characters come to mind like friends when someone or something reminds me of them. That's a telltale sign of a good book if you ask me!" - Donna S.