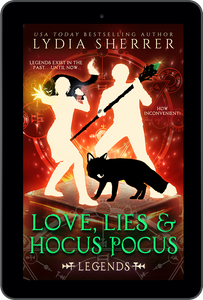 HAVE A COUPON CODE? 

APPLY YOUR CREDIT AT CHECKOUT!



Legends exist in the past...until now. How inconvenient!

The battle has been won, but the war is far from over. With her greatest ally at death's door, it is up to Lily Singer to continue the fight. Troublemaking witch friend and talking cat in tow, she heads to England to stop her father from awakening an ancient evil and stealing its power for himself.

But when a queen of the fae gets involved and calls in an old debt, Sebastian's mistakes come back to haunt him and Lily is in danger of losing the one thing that matters most. Far from home and facing perilous odds, Lily fears she's not strong enough to keep her friends safe and win the day. Will the risks she takes be enough? Or will this adventure be the end of them all?

With 300+ five star ratings on Amazon and Goodreads and over 30,000 copies downloaded, this urban fantasy series full of adventure and snarky humor is guaranteed to cause loud snorts of laughter, tea cravings, and sleep loss. Don't start reading at night or you'll never go to bed! Great for fans of urban fantasy from Harry Potter to Harry Dresden. Grab Book 4 and discover why legends are so very hard to kill.

"Magic, snark, wit and cats: what more can you ask for in a book?" - Kaitlyn, Amazon Customer
"I'm a fan for life! As long as the author keeps writing, I'll keep buying!" - Stephen, paperback reader
"Ms. Sherrer must speak cat because she knows just what a cat thinks. This is so cute and fun to read. It brought a smile to my face and I could not stop laughing." - Crystal, Amazon Customer
"Read this series! It's one everyone should have in their library!" - Kindle Customer

"The author has clearly lived with many a cat in her lifetime…I laughed (fairly loudly) so many times I lost count." - Kern, Amazon Customer

"Lots of adventure, danger and hilarity. I am hooked and can't wait for the next book." - Brittany, Kindle Customer

"This book was so good that I almost missed a meeting because I was enthralled with the story." - Kristi, paperback reader

"I loved this book. I couldn't put it down I read it in one sitting. Kudos to the author. I can't wait to read the rest of the series." - Tonya, Amazon Customer