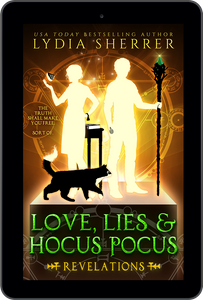 HAVE A COUPON CODE? 

APPLY YOUR CREDIT AT CHECKOUT!



Never argue with a talking cat…you won't win
Being a wizard, Lily Singer likes her magic logical and systematic. So when her cat suddenly starts opening locked doors and telling her what to do, she is not pleased. But before she can deal with her errant feline, her witch friend Sebastian warns of a heist plot at the very museum she was just hired to ward.

Lily must lay a trap for the would-be thief and figure out why Sebastian is suddenly acting so suspicious, all while wrangling her newly magical cat. To make matters worse, a mysterious wizard waltzes into her life claiming to know the truth about her past, and Lily must decide who, amid all the chaos, she can trust. Will discovering the past reveal her future? Or doom it?

With 300+ five star ratings on Amazon and Goodreads and over 30,000 copies downloaded, this urban fantasy series full of adventure and snarky humor is guaranteed to cause loud snorts of laughter, tea cravings, and sleep loss. Don't start reading at night or you'll never go to bed! Great for fans of urban fantasy from Harry Potter to Harry Dresden. Grab Book 2: Revelations, and discover the truth, if you dare.
"Magic, snark, wit and cats: what more can you ask for in a book?" - Kaitlyn, Amazon Customer
"I'm a fan for life! As long as the author keeps writing, I'll keep buying!" - Stephen, paperback reader
"Ms. Sherrer must speak cat because she knows just what a cat thinks. This is so cute and fun to read. It brought a smile to my face and I could not stop laughing." - Crystal, Amazon Customer
"Read this series! It's one everyone should have in their library!" - Kindle Customer

"The author has clearly lived with many a cat in her lifetime…I laughed (fairly loudly) so many times I lost count." - Kern, Amazon Customer

"Lots of adventure, danger and hilarity. I am hooked and can't wait for the next book." - Brittany, Kindle Customer

"This book was so good that I almost missed a meeting because I was enthralled with the story." - Kristi, paperback reader

"I loved this book. I couldn't put it down I read it in one sitting. Kudos to the author. I can't wait to read the rest of the series." - Tonya, Amazon Customer