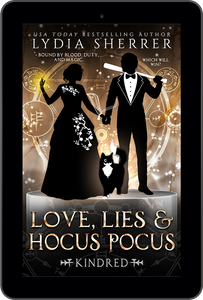 Bound by blood, duty, and magic. Which will win?



Lily Singer's family and allies are determined to hold John Faust accountable for his actions, but doing so may create more problems than it solves. From political intrigue to international alliances, Lily, Sebastian, and Sir Kipling must venture out into the larger wizard community and survive the first wizard convocation held in almost a century.
And they can't just survive—they must win.
For the enemy they thought had been defeated was only just getting started, and he always keeps his promises—especially when they involve death and destruction. With her troublemaking witch and talking cat by her side, Lily will have to navigate broken family relationships, a daring rescue operation, and the struggle between light and dark within her own soul.
They may have won the battle, but the war has only just begun.

With 2000+ five star ratings on Amazon and Goodreads and over a quarter million copies sold, this urban fantasy series full of adventure and snarky humor is guaranteed to cause loud snorts of laughter, tea cravings, and sleep loss. Don't start reading at night or you'll never go to bed! Great for fans of urban fantasy from Harry Potter to Harry Dresden. Pick up Book 7 to join the fight against the darkness.

"Magic, snark, wit and cats: what more can you ask for in a book?" - Kaitlyn, Amazon Customer
"I'm a fan for life! As long as the author keeps writing, I'll keep buying!" - Stephen, paperback reader
"Ms. Sherrer must speak cat because she knows just what a cat thinks. This is so cute and fun to read. It brought a smile to my face and I could not stop laughing." - Crystal, Amazon Customer
"Read this series! It's one everyone should have in their library!" - Kindle Customer

"The author has clearly lived with many a cat in her lifetime…I laughed (fairly loudly) so many times I lost count." - Kern, Amazon Customer

"Lots of adventure, danger and hilarity. I am hooked and can't wait for the next book." - Brittany, Kindle Customer