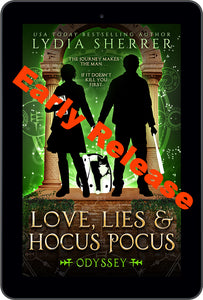 THIS IS AN EARLY RELEASE EBOOK PREORDER. YOU WILL PAY NOW AND RECEIVE YOUR EBOOK DOWNLOAD LINK VIA EMAIL AT 12:01 AM EASTERN STANDARD TIME FEBRUARY 1ST, 2024
If for any reason you cannot find your download email, you can download your ebook from my.bookfunnel.com any time February 1st or after, just enter your purchase email to log in.
Please whitelist support@lydiasherrer.com and help@bookfunnel.com so that you receive all your order confirmation and ebook download emails.
The journey makes the man...if it doesn't kill you first.
Lily, Sebastian, and Sir Kipling's next adventure starts off with a bang as they regroup from their crippling battle with Nergal and search for the fabled city of the ancients.
Only they know the threat Nergal poses, and they must race across the world to find the city and warn the inhabitants before this prince of demons destroys it all.
But they can't do it alone.
Thrown together once again with the fae of Melthalin and Lily's own murderous, conniving father, they'll have to navigate waters so treacherous that one misstep could kill them all.
Long-held secrets are coming to light, secrets that could destroy everything they hold dear.
Including each other.
With 2000+ five star ratings on Amazon and Goodreads and over half a million copies sold, this urban fantasy series full of adventure and snarky humor is guaranteed to cause loud snorts of laughter, tea cravings, and sleep loss. Don't start reading at night or you'll never go to bed! Great for fans of urban fantasy from Harry Potter to Harry Dresden. Pick up Book 8 to join the fight against the darkness.

"Magic, snark, wit and cats: what more can you ask for in a book?" - Kaitlyn, Amazon Customer
"I'm a fan for life! As long as the author keeps writing, I'll keep buying!" - Stephen, paperback reader
"Ms. Sherrer must speak cat because she knows just what a cat thinks. This is so cute and fun to read. It brought a smile to my face and I could not stop laughing." - Crystal, Amazon Customer
"Read this series! It's one everyone should have in their library!" - Kindle Customer

"The author has clearly lived with many a cat in her lifetime…I laughed (fairly loudly) so many times I lost count." - Kern, Amazon Customer

"Lots of adventure, danger and hilarity. I am hooked and can't wait for the next book." - Brittany, Kindle Customer