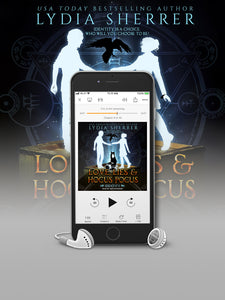 This is an electronic audiobook. To listen, you must download the Bookfunnel app. 
You will not have access to the MP3 files individually, and can't listen to the book outside of the BookFunnel app.

To listen to your audiobook, you will need to install the BookFunnel app on your iOS, Android, or Amazon Fire device. You can add the book to your app using a BookFunnel code or by logging into the app using the email address you provided when you ordered your copy of the audiobook.

Runtime: 13 hours
Narrator: Amy McFadden
HAVE A COUPON CODE? APPLY YOUR CREDIT AT CHECKOUT!
Identity is a choice. Who will you choose to be?

Lily is in trouble. Deep, deep trouble. Alone and without her magic, she doesn't know where she is or how she got there. All she wants is to go home and be left in peace. But what part of her will she have to sacrifice to get there?

Sebastian is doomed. Spent, wrecked, devastated. Everything he ever had going for him is lying in ash and ruin, and he can't shake off the doubts in his head that are driving him mad. Is what they're saying true? How is he supposed to tell truth from lie?

Separated by dangerous forces, Lily and Sebastian must dig deep for the courage they need to survive. But with all their pretense and excuses stripped away, can they come to terms with who they are--and who they were meant to be--before it's too late? Wizard, witch, and demon, their enemies are wily and strong...and have been planning this victory for a long, long time.

With over 1,000 five star ratings and over 100,000 copies downloaded, this urban fantasy series full of adventure and snarky humor is guaranteed to cause loud snorts of laughter, tea cravings, and sleep loss. Don't start it at night or you'll never go to bed! Great for fans of urban fantasy from Harry Potter to Harry Dresden. Grab Book 6 now and discover who you will be.
"Magic, snark, wit and cats: what more can you ask for in a book?" - Kaitlyn, Amazon Customer
"I'm a fan for life! As long as the author keeps writing, I'll keep buying!" - Stephen, paperback reader
"Ms. Sherrer must speak cat because she knows just what a cat thinks. This is so cute and fun to read. It brought a smile to my face and I could not stop laughing." - Crystal, Amazon Customer
"Read this series! It's one everyone should have in their library!" - Kindle Customer

"The author has clearly lived with many a cat in her lifetime…I laughed (fairly loudly) so many times I lost count." - Kern, Amazon Customer

"Lots of adventure, danger and hilarity. I am hooked and can't wait for the next book." - Brittany, Kindle Customer

"This book was so good that I almost missed a meeting because I was enthralled with the story." - Kristi, paperback reader

"I loved this book. I couldn't put it down I read it in one sitting. Kudos to the author. I can't wait to read the rest of the series." - Tonya, Amazon Customer